I am Dr Sunil Deepak, a doctor from India. For about three decades, I lived in Bologna (Italy) and worked at international level with AIFO/Italy and with the World Health Organisation (WHO). In June 2014 I came back to India for 2 years. During this period, for about a year and a half, I was based in Guwahati (Assam) where I was working as head of Mobility India North-East. I have had a wonderful professional life. Now I divide my time between Italy and India.
I continue to collaborate with NGOs active in the field of disability and community health. I also continue to collaborate with AIFO-Italy. My areas of work are disability, rehabilitation, leprosy, training, research and evaluation. If you are interested in my professional work, you can download some of my research papers and publications.
I am happy to collaborate with small NGOs, organisations of persons with disabilities (DPOs) and grassroots organisations free of cost. So if you are looking for technical support in the areas of health and disability and feel that I can be useful, contact me at sunil.deepak(at)gmail.com
I have a passion for reading, writing, nature, archaeology, history, museums, art, culture, dance, music, bicycle ... and very especially for photography.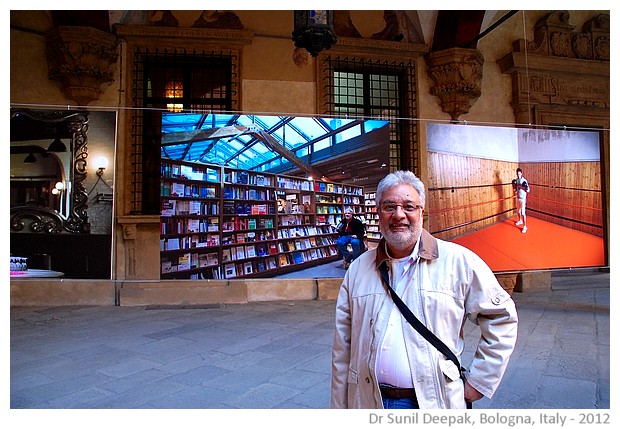 This blog presents some of my writings about books, films (mainly documentary films), sexuality issues, travels and my work. Images are a special part of my work on this blog.
ORIGINS OF MY PASSION FOR PHOTOGRAPHY
In 2004-05, when I bought my first digital camera, I discovered that I loved clicking pictures. My work gave me endless opportunities to develop this passion.
Between 1988 and 2014, I had been travelling around the world for my work with an international humanitarian organisation called AIFO/Italy. During my stay in the north-east of India, I visited that region. My travels gave me new opportunities for visiting remote villages and small cities in different countries, places where tourists rarely reach. Now my international travels are less frequent, but I continue to explore India and Italy.
The best part of my work has been that I got to meet people who are trying to make a positive change - they help others - persons without voice to speak, to fight for human rights, to help others become self-reliant, to help others to have skills and education.
My photographs have been used for books, magazines, calendars and exhibitions in different countries.
MY GEAR
I started with a Kodak Easyshare camera in 2004, I lost it in Ecuador in 2005 but then bought another similar camera and used it till 2009.
In 2009, I bought a SLR camera, a low end Nikon D40. In 2014, my Nikon camera gave up so I have bought a Cannon 600D with two lenses (a Tamron 18-200 mm and a Sigma 70-300 mm). I also use a compact Nikon camera and my mobile phone for clicking pictures.
COPYRIGHTS
I am all for open access and sharing, so feel free to use any of my images that you find on internet.If you use my pictures, I will appreciate that you give credit to me. If you use my pictures as part of a larger creative work, I will appreciate knowing about it.
I am happy to share my pictures (also in in high resolution) free of cost with people. If you wish to use them for your blogs or websites or other creative work, do write to me.
You can write to me at sunil.deepak(at)gmail.com.
Thanks for your patience in reading all this. I hope you will like looking at the world through my eyes!
***